Filters
An integral part of every Respro® mask is a filter that captures any dangerous particles in the air. Respro® provides its customers with several types of extremely modern filters, for the production of which innovative technologies are used.
Generally from the 2019/2020 season onwards there has been a unification of the range because the variety of names was cumbersome for customers.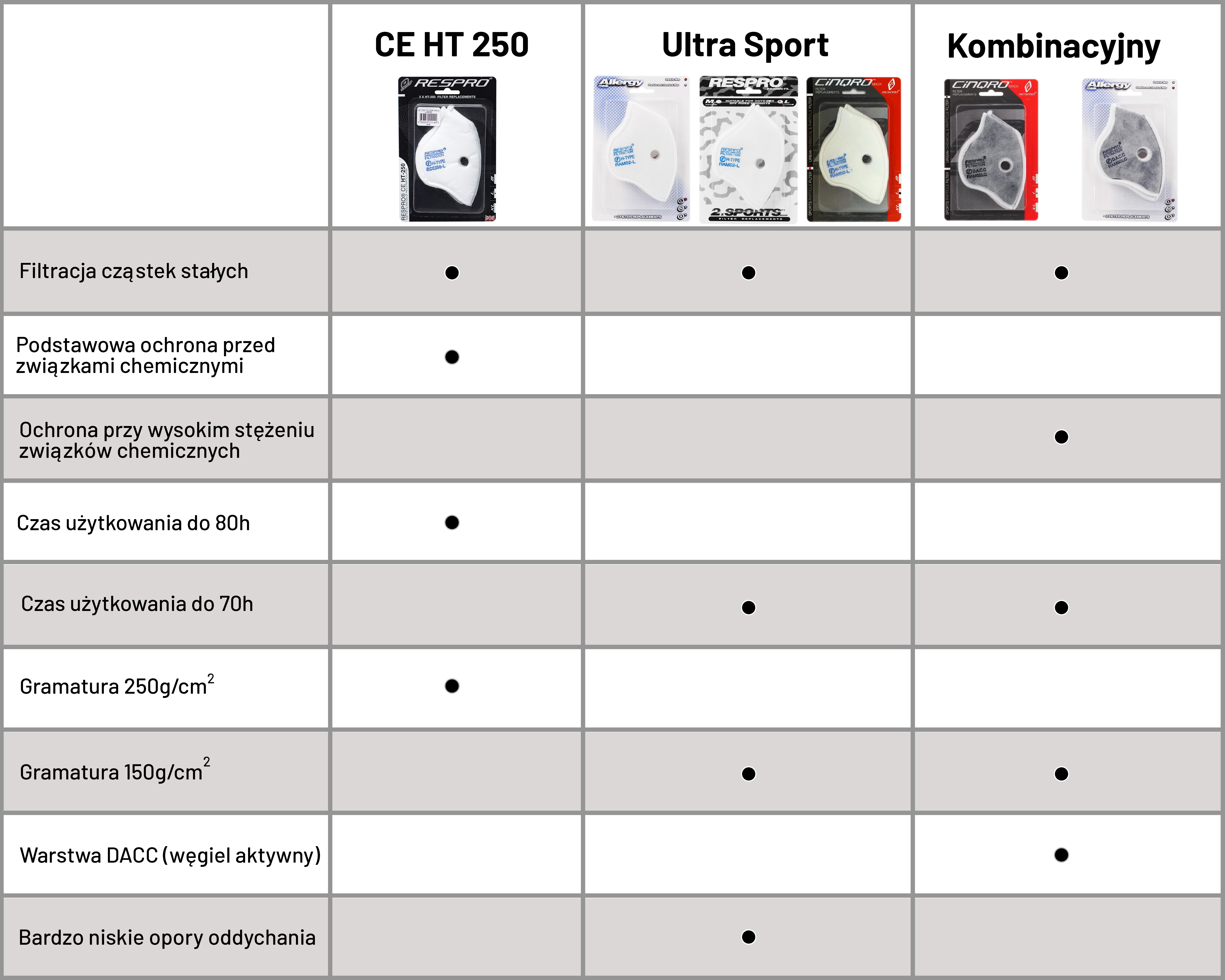 Hepa-Type filters, which include the CE-HT 250 and Ultra Sport, are a unique construction that is designed to provide users with maximum protection against contaminants. They are made with L-Resistance technology, so that they do not cause excessive air resistance when breathing, which is often the case with classic filters that operate on the principle of mechanical retention. The innovative design of submicron L-Resistance Hepa-Type filters is based on electrostatically charged fibres that attract pollutant particles. This type of solution is extremely effective, as it effectively traps particles with a diameter of less than 2.5 micrometres. For particles with a diameter of more than 0.3 micrometres, the effectiveness of the Hepa-Type filter fabric is more than 99.97%. However, it should be borne in mind here that, from the user's point of view, what is important is the so-called protection class of the entire mask consisting not only of the filter but also of the lagging and valves. Only such a combination is tested for compliance with the EN 149:2001 + A1:2009 standard. In the case of Respro masks, they were certified for protection class FFP1 R, i.e. for reusable masks with a filtration level of more than 80%.
Many manufacturers only provide information about the filtration level of the material itself, which is misleading for those looking for a proven product.
DACC technology works with dynamic activated carbon. Carbon filters of this type were first manufactured for the British Army, with the aim of providing soldiers with superior protection against chemical, biological threats and radioactive dust. The effectiveness of this solution proved extremely high and DACC filters also proved useful in industry, sport and everyday life. Masks equipped with filters based on dynamic activated carbon excel at retaining harmful substances, acid gases of nitric oxide and nitrogen dioxide, sulphur dioxide, aerosols and a whole range of chemical compounds hazardous to health, released with car exhaust fumes, during furnace combustion or during industrial production in factories.
The combination filter is a combination of Hepa-Type and DACC. Perfectly retain both solid particles and pollen and harmful substances. This double protection is particularly important in urban settings, where everyone is exposed to both dust and the effects of hazardous chemicals.
Respro® filters of all types are very comfortable to use and handle. Each is specially curved and shaped in a way that allows the mask to fit perfectly to the face, but without restricting the movements of the user. The filters are not permanently attached - so a worn filter element can be quickly and easily replaced with a new one. It is worth remembering thatevery Respro® filter fits all masks of this brand. Respro® filters are manufactured in several sizes, so you can fit them perfectly to your particular mask size. It's very simple - an XL filter fits an XL mask. The only exception is the S size masks, which use M size filters.
To ensure that the mask is effective and fully protects the wearer, it is recommended that Respro® filters are replaced after approximately 60-80 hours of active use. The longest service life is provided by HEPA TYPE CE-HT 250 filters.